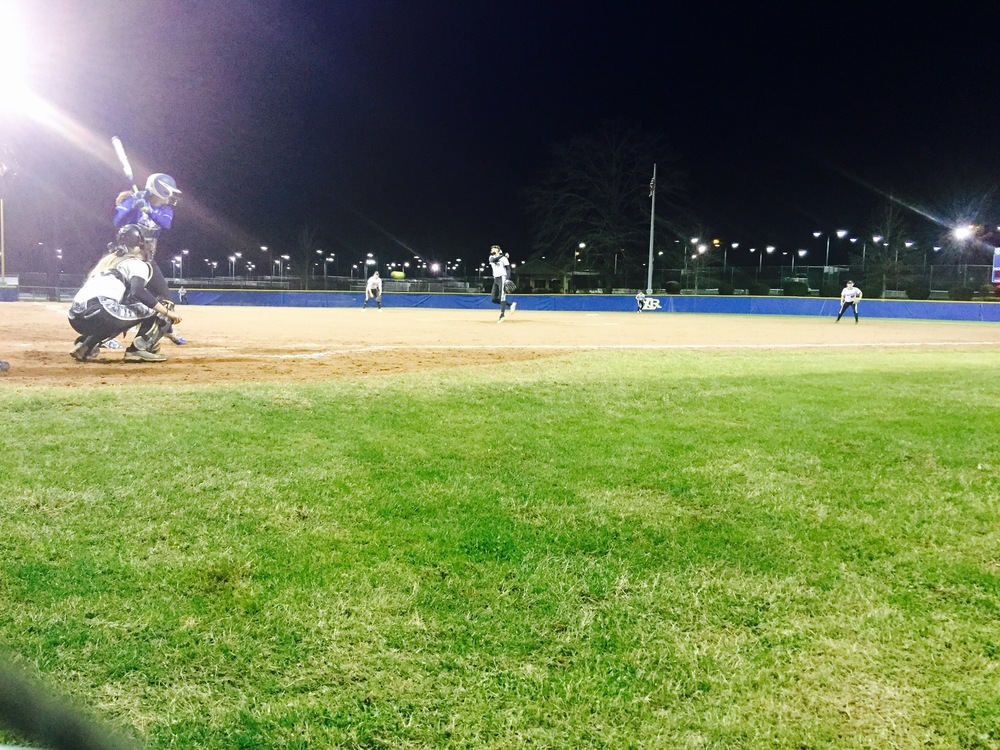 Bauxite Softball Comes out of the Break Swinging
Joshua Harrison
Sunday, April 03, 2016
Coach Sara Tew and the Lady Miner Softball squad took the week of spring break away from competition. They came out of spring break holding a 7-2 record. After a week and three games, they have ran their record to 10-2 after 3 wins, including 2 big road wins over 4A schools.
On Monday, Bauxite traveled to Conway to play Heber Springs at Hendrix College. The Lady Miners started off quick getting a run in the 2nd inning and then having a runner cut down at home on a controversial call. Heber Springs battled back and took a 2-1 lead going into the 6th inning. That is when Bauxite stepped up and became the aggressor scoring the tying run in the 6th on a Sydney Oliver base hit and then scoring 2 runs on a huge double by Sophomore Bailey Buffington. Buffington got the win on the mound after allowing 2 runs and striking out 6 Lady Panthers. Fellow Sophomores Shelby Chavers and Daniele Singleton each had 2 hits, while Junior Sydney Oliver added 2 big RBIs for Bauxite.
Tuesday the Lady Miners returned home to take on a scrappy 3A opponent in the Perryville Lady Mustangs. Bauxite wasted no time getting their offense rolling and build a big lead in route to a 9-2 victory. Junior Valery Cotton and Freshman Taylor Sledd had big nights at the plate as they each contributed 2 hits and 3 RBIs. Daniele Singleton continued swinging a hot bat and added 2 hits. Sophomore ace Bailey Buffington pitched all 7 frames and sat down 8 Mustangs from the rubber. The win moved Bauxite's home record to 6-0 on the season.
Bauxite opened 7-4A play on Friday night at Malvern. The Lady Leopards are one of the topped ranked teams in 4A and will make up a murderers row of teams in the 7-4A conference. The Lady Miners scored early to take a 1-0 lead on a base hit by Buffington and and RBI single by center fielder Daniele Singleton. Buffington had a great outing on the mound striking out 5 Leopards and not allowing a run. Bauxite added an insurance run late on another hit by Buffington followed by an RBI base hit by Freshman Taylor Sledd. The victory moved the Lady Miners to 10-2 on the season and 1-0 in 7-4A play.
This week will be a pivotal one for the Lady Miners as the host perennial power Ashdown Lady Panthers on Monday starting at 4:30. They go out of conference play on Tuesday as they travel to Lonoke. The game will also start at 4:30. The week will culminate in another matchup with the reigning 4A state champion Mena Lady Bearcats. The game will be played at 4:30 at Mena High School. Bauxite beat Mena earlier in the season on a neutral field 7-1, but Mena will be focused and ready to show the heart of a champ. For Bauxite, they want to prove that they are for real and that they will be a player in the conference and the 4A state championship race.