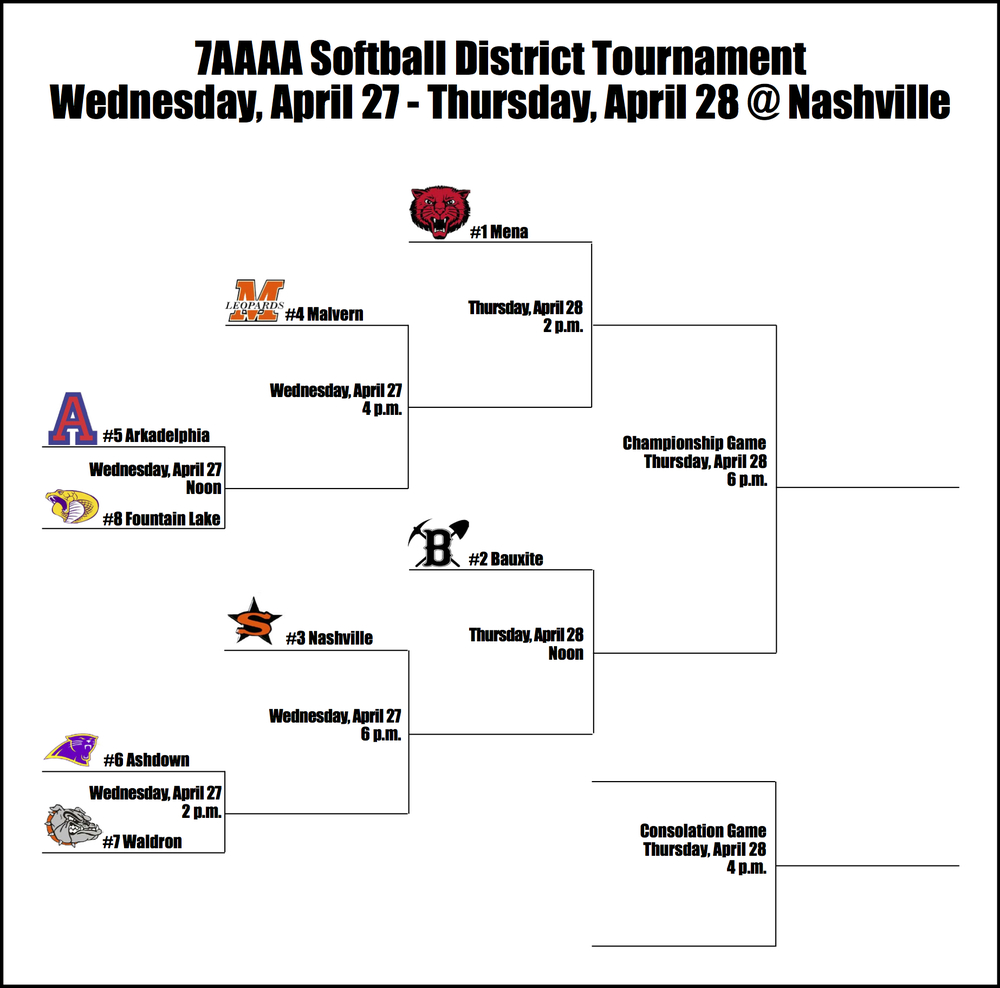 Pulling the Sledd into 7-4A District Softball Tournament
Joshua Harrison
Tuesday, April 26, 2016
Coach Sara Tew and the Bauxite Lady Miners are riding an 11 game winning streak heading into this weeks 7-4A district softball tournament. The tournament will be played Wednesday and Thursday at Nashville High School. They finished runner up to the defending state champion Mena Lady Bearcats after losing to Mena on the road 1-0. They are coming off a huge come from behind win at home on senior night against Nashville.
Trailing 3-0 against Nashville, the Lady Miners pulled their sleeves up and went to work. Freshman Destiny McClain led off the frame with a sharp single to right field. McClain advanced to second on a fielders choice. Sophomore Jacee Cooper launched a fly ball to left field that was misplayed by the Lady Scrapper outfielder allowing McClain to take third and Cooper to advance to second. With one out and 2 on, junior Vallery Cotton send a line drive single to right field that scored McClain and left runners on the corner and the Lady Miners trailing 3-1. Lead-off hitter, Shelby Chavers took the second pitch she saw and deposited it through the right side scoring Cooper and moving pinch runner, Senior Alex Henley to second. After a line drive out by Ashley Redmon, the Lady Miners were down to their final out with their leader Bailey Buffington at the plate and the tying run at second. Bailey blasted the 2nd pitch she saw into left field for an RBI single that tied the game at 3 and left runners at first and second. Freshmen slugger Taylor Sledd came to the plate and the heroics began. Taylor fouled the first pitch see saw straight back and took a ball with the next pitch. As she dug in, the Nashville pitcher tested her with a fast ball that Taylor launched to the left field gap that one hopped into the fence. Chavers scored easily from second and the Lady Miners completed the comeback and assured themselves a spot in next weeks regional tournament.
Buffington got the win for Bauxite allowing 4 hits and 2 earned runs in 7 innings while fanning 5 Scrapperettes. She also contributed 3 hits at the plate including the clutch seventh inning single. The Lady Miners had 10 hits in all, with non bigger then Sledd's seventh inning game winner. Bauxite will play on Thursday at 2:00. They are looking at playing the same Nashville team, assuming Nashville wins their first game on Wednesday. The winner of this matchup will play at 6:00 Thursday in the Championship game and the loser will play at 4:00 in the consolation game.