Earlier today BMS was on lockdown for about five minutes during an issue with an individual near campus. We had students remain indoors for a few minutes until the individual was taken into custody by law enforcement. Other campuses were not affected.

School will dismiss at 1:30 Thursday, Oct. 18. Parent Teacher Conferences will be from 2-7. No school 10/19 or 10/22. Enjoy your fall break!

Your app: It's everything Bauxite Public Schools, in your pocket! Download the app from the app store - search Bauxite Public Schools AR.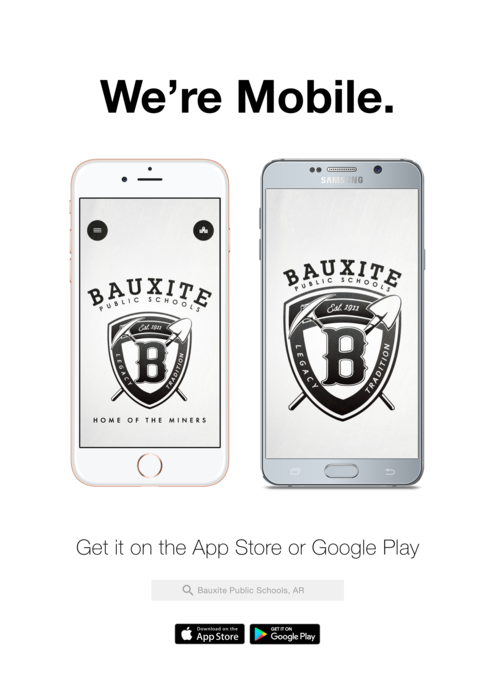 Middle school & high school parents: High school flu shot forms went home today. Forms will go home tomorrow for the middle school. Flu shots will be Wednesday, October 3. Forms must be filled out and signed for your student to receive the flu shot.

There was a minor fender bender on Legacy Lane this afternoon, which has delayed some of our buses. Some students may be a little later than usual getting home.

August 13 is Bauxite's first day of school!
Schedule pickup and fill out paperwork today for Juniors and Seniors 10 am- 6 pm!

BHS 9th and 10th graders are ACT Aspire testing tomorrow and Thursday mornings! Please make sure they are well-rested, well-fed, and their Chromebooks are charged! Thank you!

Just a reminder that Bauxite Schools are closed tomorrow, Friday, March 30.

Parents of Seniors, Senior Slide Show pics are due TOMORROW 3/14/18 by 3:15. Bring a baby, a middle grade, and a current pic; class pics from elementary are also welcome. Turn in to Mrs. Shamburger.

Open House at Pulaski Tech 3/6/18 4:30-7:30 just for Bauxite parents. If you're interested in culinary, healthcare, HVAC, or automotives, you really need to check PTC out BEFORE CAP conferences!!

Upon learning that a student had made threats against other students on social media, Bauxite Schools immediately went into a brief lockdown. The Saline County Sheriff's Office has the student in custody, and they have determined there is no lockdown needed at this time. The safety and well-being of our students and staff is our top priority.

Just a reminder that Bauxite Schools are closed Monday, Feb. 19 for Presidents' Day!

Bauxite Schools are open tomorrow, Friday, Feb. 16. Water was restored this afternoon, and there is no boil order. See you there!

The city of Bauxite had a water main burst, resulting in no water for 3-4 hours while repairs are made. Buses will run at regular times. Absences will not count against checked-out students.

Bauxite Schools are closed Thursday, January 18. This will be AMI Day 3.

Bauxite Schools are closed Wednesday, January 17. This will be AMI Day 2

Bauxite Schools are closed Tuesday, Jan. 16. This will be AMI Day 1.

Homecoming Royalty 2017: Freshman Danika King, Sophomore MaryAnn Gundlach, Junior DJ Pelle, Senior Avery Roberts, Queen Maci Johnson, Senior Catherine Sky-Eagle, Junior Kelsey Cockman, Sophomore Leah Harrison and Freshman Faith Robinson.


Bauxite Schools is hiring substitute bus drivers! Apply online at Bauxiteminers.org!