We're doing an 8th Grade Informational Meeting this Tuesday 8/23 @ 5:30 p.m. in the BMS Cafeteria to discuss this year's History course! Students should bring their Chromebooks. See you then!
Community Night 8/19 in Dawson Gym @ 5:30pm. Introducing 3rd-12th grade Football/Spirit players/coaches. Jr/Sr Football Jamboree vs De Queen 8/22 @ 5:30pm @ Benton Football Complex. #bebauxite
Parent Night for grades 9-12. This Thursday, August 18th, from 6:30-7:30 p.m. in the HS Auditorium. Topics include: Flex-Mod Scheduling & resources for seniors.
High School: Schedules will not be available at Open House tonight. Chromebooks will be handed out and parents can update any paperwork! Go Miners!
This Tuesday, August 9th, there will be an All-Sports Meeting for the Parents of any child wanting to play sports, grades 7-12. It will be @ 6pm in the BHS Auditorium.
Kindergarten will not have the same Orientation times as 1st through 12th grades. Kindergarten Orientation is their first day according to their letter. Open House is the same: August 11th 5pm - 7pm.
Bauxite Orientation will be open 8:30 - 11:30 a.m. & 1 - 5:30 p.m for K-8th on August 2nd & 4th. Juniors/Seniors is on August 2nd, and Sophomores/Freshmen is on August 4th during the same time slots.
ABB Always Be Bauxite
This Spring, Bauxite Schools had 12 students pass the PowerPoint Exams for CTE and 6 more that passed the Word Exams. Those combined with the other was 18 total certifications in 3 days. That's what's up!!! #bebauxite
You guys remember Earth Day? Yeah, we have the best kids on the planet, of which they enjoy taking care of!!! #bebauxite
PHE collected 105 gallon bags of POP TABS to be donated to the Ronald McDonald house this year!! Whattttt!!! #awesome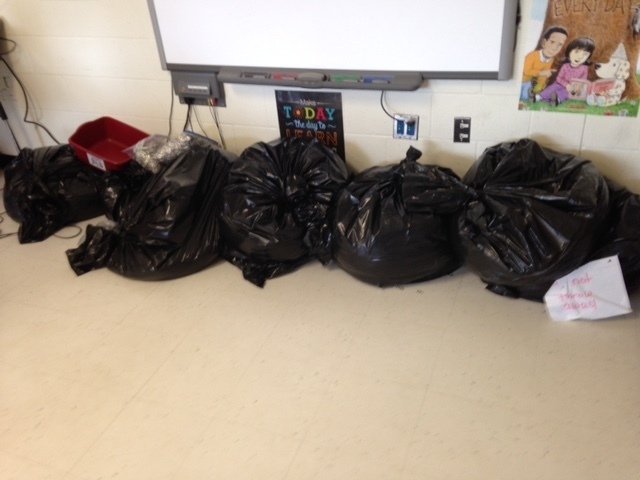 Some students in Ms. Golleher's Class bagging up shoes to give to those in need!! #bebauxite

Hey there, Bauxite Miners! We wanted to give a quick update on the status of next year's senior high football program. There is currently a low number of students participating from the upcoming junior and senior classes; however, Bauxite is excited about the large number of participants and success seen in this year's junior high program. The district and coaches have taken every effort to increase interest in the football program by adding staff, purchasing new uniforms and helmets, creating promotional videos, upgrading current facilities, redoing the turf in the field house, and purchasing brand new workout equipment for our weight room. Just like other sports, football is a wonderful opportunity for students to participate on a team and build traits they can carry with them the rest of their lives. We want to thank the supporters of Bauxite athletics who attend games and participate in school activities. Bauxite is an amazing school district and community, and we're proud of all current, previous, and future Bauxite Miners.
Every year our 3rd graders take a field trip to Heifer Village and learn about things they can do to help end world poverty. They also collect a donation that they use to buy animals to be given as a way to support families all over the world. This year our students earned a record breaking $1,052.31! Students will vote on how they want to spend this money, and they will hand it over to Heifer International when they go on their trip this Thursday. Way to go 3rd grade team!!! #bebauxite
Ms. Golleher's 7th graders' are doing a shoe drive to collect shoes to be distributed around the world to undeveloped countries and places with people in need. Any size or style welcome! They have collected 25 bags of shoes and the goal is 100 bags. The deadline is May 24. Please bring any shoes to the Middle School office to help them out!!
Today is the LAST day to turn in School Choice Forms to Central Office!!! Get these forms in to us today to attend Bauxite!!
http://bit.ly/schoolchoice16