Bauxite Schools Senior Graduation will be Monday, May 15, 2017, at The Pit. Excited for our seniors and we'll see all of you there!!
Bauxite Sr. Boys Basketball is hosting their 1st Annual "Community at Practice Night" tomorrow night (Tuesday) at 6:30 in Dawson gym! Doors open at 6:00. Free admission! #bebauxite #minersup
Bauxite Sr. Boys Basketball is hosting their 1st Annual "Community at Practice Night" tomorrow night (Tuesday) at 6:30 in Dawson gym! Doors open at 6:00. Free admission! Come check out a Sr Boys practice before season starts!! #bebauxite #minersup
All senior ad meetings will be Oct. 25 from 5-8 pm. Can't make it or prefer to proof ad via email >
davisb@bauxiteminers.org
Senior ad meeting will take place from 5-8 p.m. on Tuesday, October 25, in room A2. Approve of your current ad or submit one. Bring any photos you want included. ?'s contact:
davisb@bauxiteminers.org
PT Conferences are Tuesday, October 18th from 2 p.m. to 7 p.m. Pick up your child's report card and flu shot forms. Students will be released and buses will run at 1:30 p.m.
We have 4 All-Region Senior High Bauxite Miners! Carissa Knapp. Wade Grant, Mason Richards, and Braedon Lowe will all represent Bauxite at the Region 3 Senior High All-Region clinic November 12th at Benton First Baptist! SUPER PROUD!!! #bebauxite
Seniors, Juniors, and Sophomores: ACT practice is going to be offered five Saturdays from 9:00-12:00 beginning October 29th and ending December 3rd to prepare for the December ACT. The cost is $100 per person. $50 is due by October 12th and the remaining $50 is due by the first day of class. The classes will be held at Bauxite High School. You must sign up in the counselor's office no later than October 12th.
PARENTS: Amy Netherly from the Department of Higher Ed will be at BHS to discuss financial aid changes and guidelines. This meeting is for seniors and their parents, but all parents are welcome to attend! The meeting will be in the high school auditorium on September 22, at 6:00 p.m.
Tonight's football game against Dumas will be held at Bryant Stadium. Here's a little map to help with directions/parking. Let's go, Miners! #bebauxite
Mrs. Dumas' 6th grade math classes participated in the Marshmallow Challenge on Tuesday, September 6th. Students collaborated quickly, developed prototypes and built freestanding structures from spaghetti noodles, tape, string...and the marshmallows! They never once gave up! Collaboration & perseverance abound... Just like with math!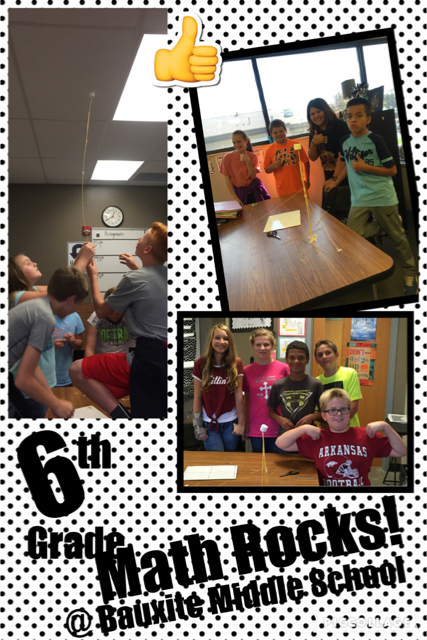 The Bauxite Miner Football team will play at Glen Rose on September 9th @ 7 p.m. Next week, Miner Football will go against Dumas at Bryant High Stadium on Friday, September 16th, at 7 p.m.
Get your tickets early to the Bauxite vs HG Football Game next week @ the HS, MA, or MS offices. Tuesday - 7th starts @ 5:30 & Jr. High @ 7 Thursday - Sr. High starts @ 7 All games @ Harmony Grove
We're doing an 8th Grade Informational Meeting this Tuesday 8/23 @ 5:30 p.m. in the BMS Cafeteria to discuss this year's History course! Students should bring their Chromebooks. See you then!
Community Night 8/19 in Dawson Gym @ 5:30pm. Introducing 3rd-12th grade Football/Spirit players/coaches. Jr/Sr Football Jamboree vs De Queen 8/22 @ 5:30pm @ Benton Football Complex. #bebauxite
Parent Night for grades 9-12. This Thursday, August 18th, from 6:30-7:30 p.m. in the HS Auditorium. Topics include: Flex-Mod Scheduling & resources for seniors.
High School: Schedules will not be available at Open House tonight. Chromebooks will be handed out and parents can update any paperwork! Go Miners!
This Tuesday, August 9th, there will be an All-Sports Meeting for the Parents of any child wanting to play sports, grades 7-12. It will be @ 6pm in the BHS Auditorium.
Kindergarten will not have the same Orientation times as 1st through 12th grades. Kindergarten Orientation is their first day according to their letter. Open House is the same: August 11th 5pm - 7pm.